Ben-Gurion House in Tel Aviv!
Activities for the whole family
The number of visitors is limited, pre-registration is required.
Sunday, Tuesday, Thursday: 9: 00-16: 00
Monday: 9: 00-19: 00
Friday: 9: 00-13: 00
Saturday: 11: 00-15: 00
The restoration and preservation of ancient books in the Ben-Gurion Library in Tel Aviv.
David Ben-Gurion bequeathed his home in Tel Aviv, with its extensive library, to the State of Israel to serve as an "institution for reading, studying, and researching."
Ben-Gurion was known as a book lover and was interested in many subjects. The list of topics included in the library is diverse and impressive, and include: Greek and Latin texts (source and translation), history of Judaism, Christianity and Islam, 15 translations of the Bible into different languages, religions and cultures of the Far East, philosophy – ancient and new (there are about 60 books On Spinoza in different languages), and other subjects. The library contains books in 37 modern and ancient languages. 
In the library, there are many works in which the author dedicated and signed the book for Ben-Gurion. In the corner of his workspace, next to his desk, Ben-Gurion kept books that were particularly special to him: Bibles and memorial books for Israel's Fallen Soldiers that were sent to him by institutions and bereaved families.
The library contains books that Ben-Gurion purchased or received during his lifetime, and the contents of the books were kept as they were.
After Ben-Gurion's death, no new books were added to the library, except for those dealing with Ben-Gurion's history, heritage and political and public activities.
A total of around 20,000 titles are in the library, including 66 rare books and 41 books that were published in a limited number (up to 300).
Today, the library serves as a place for discussions, lectures, film screenings, and more.
Listen to the old podcast
A peek at the books in the library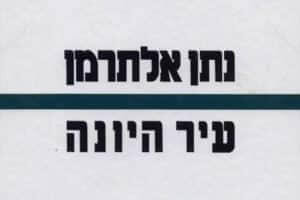 Natan Alterman was and still is one of the most prolific and popular poets in Israeli literature. Over the years, Alterman has been identified with
read more "